As the winter season gets colder, charcoal sellers in Chipata have increased the price for a 50 kilogram bag of the commodity to 100 Kwacha from the previous 75 Kwacha.
Some traders talked to by Breeze News, say this is because of the hike in the permit for trading in charcoal by the Forestry Department and transport expenses.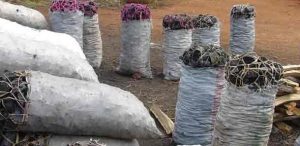 One of the traders, Catherine Miti, says in March, she was paying 275 Kwacha for a permit for seven days for 20 bags of charcoal, but the Forestry Department now only allows traders to pay the same amount for 10 bags.
Mrs. Miti says some of the smaller bags of charcoal, which were at 50 kwacha, are now being sold at 75 Kwacha.
She explained that charcoal is being ordered at 20 Kwacha per 50 kilogram bag and that transporting the commodity from Mbenjele to Chipata Town cost about 15 Kwacha per bag.
And another charcoal trader, Mike Mwale, says business has been affected because people are unable to afford a bag at the new prices.
Mr. Mwale has asked government to intervene and reduce the trading permit price for charcoal.
And Provincial Forestry Officer, Joyce Munkombwe promised to respond to the increase in permit fee at an appropriate time after consulting the district office.