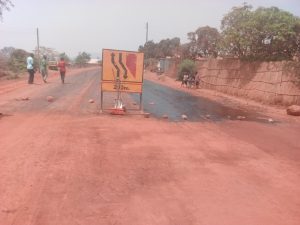 Motorists in Chipata have asked the local authority to instruct Sable Construction Company to expedite works on Kalindawalo road.
The concerned motorists say it is worrying to note that the contractor has been working on the same road since 2013, but without real progress.
Harrison Njobvu, says government, through the local authority should fund the contractor so that all the stalled works are completed.
A check by Breeze News found construction works on the Kalindawalo road by Sable Construction Company   are underway.
And Chipata City Council Acting Public Relations Manager Kameko Manda attributed the delay by Sable Construction Company to complete road works to certain logistical factors which include funding.
She says the contractor is working on a number of roads, which include East Rise road.
Ms. Manda says the total cost of all the 15. 4 kilometer roads being done by Sable in Chipata is about 154 million kwacha.
She says the council hopes the contractor will complete road works before the onset of the rains.
The acting public relations Manager added that the contractor has made an assurance that he will speed up the road works.