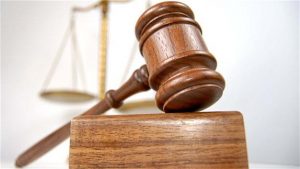 The Chipata High Court has issued a bench warrant for three witnesses in a case of murder after they failed to appear before court on two occasions.
The state applied before Judge Mwamba Chanda that a bench warrant is issued to allow for the witnesses to attend the court session where 27 year old Yohanne Libonde is appearing for murdering his uncle.
The state said Matulino Ingwe, Tasila Mbewe and Stanley Libonde were witnesses in a case where Yohanne Libonde of Chuni village in Chief Mpezeni's area in Chipata is accused of murdering his uncle, Size Mbewe in 2012.
The court heard that in December 2016 when the matter came up, the witnesses failed to appear before High Court Judge Mwila Chitabo who was sitting in the Chipata High Court.
The court ordered that a bench warrant be issued on 10th October, 2017 so that the witnesses can appear before court for the commencement of trial.
All the three witnesses who are reported to be relatives of the accused are alleged to have fled their homes.
Meanwhile, a Teacher who allegedly murdered his wife in Katete district has appeared for trial in the Chipata High Court.
Appearing before Judge Mwamba Chanda was Tobias Mwale, 33, a teacher at Omelo Mumba Primary School in Katete, who is accused of murdering his 26 years old wife, Mumba Kalaba, who was a nurse.
The state secured ten witnesses to testify but at the time of the accused first trial, only three were before court.
Before the state could proceed to call witnesses, the defense, through Legal Aid Counsel, John Phiri, applied that it had information that the accused suffered from Schizophrenia, a mental disorder involving a breakdown between thought, emotion and behaviour.
The disease also leads to faulty perception, inappropriate actions and feelings including withdrawal from reality into fantasy and delusion.
The defense said according to information obtained, the grandmother, mother, father and sister of the accused all suffer from the same illness.
He said pursuant to section 17 sub section one of the criminal procedure Act of the laws of Zambia, the accused should be referred to any competent government medical institution to ascertain his state of mind and how it could have been at the time of committing the offence.
And Judge Chanda said the court had taken into account of the application by the defense and granted that the accused be taken to hospital to ascertain his mental state at the time of committing the offence for the purposes of sentencing.
But the court said that for the purposes of trial, the court will proceed with the three witnesses who were called to testify.
Particulars of the offence are that Tobias Mbewe, on 16th July, 2017, allegedly murdered his wife, Mumba Kalaba, after a quarrel at their matrimonial home in Katete.