Radio Waves: Support to independent media in Zambia
Breeze FM in 2016 joined the BBC Media Action Radio Waves project, an initiative to support independent media in Zambia. Radio Waves , which is being carried out in partnership with SIDA, is a three-year project in which BBC Media Action will work with independent radio stations to produce governance-based programmes and outside broadcast debates to enable audiences to hold their leaders to account. The project will also assist participating radio stations to improve their professional capacity to produce and broadcast governance programmes.
Breeze FM and other partner stations will receive training and mentoring from BBC qualified and experienced staff.
They will also be supported to broadcast weekly discussion magazine programmes and monthly outdoor broadcast debate programmes.
Audiences will benefit from greater engagement with local authorities while radio stations will benefit from improved relations hips with local leaders and service delivery providers. It is expected that radio stations will be able to serve their audiences' needs better, thereby increasing their popularity in the community and ensuring long-term sustainability.
The project has eight main focus areas. These are;
Editorial skills
Production skills
Governance programming
Audience engagement and outreach
Income generation and station sustainability
Financial and human resource management
Support networks between radio stations; and
Technical maintenance
World Radio Day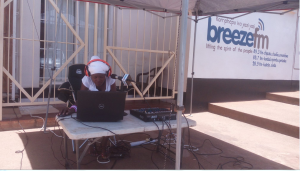 Breeze FM on World Radio Day had special programmes. In some, listeners spoke on their experience with radio and in some, experts outlined the importance of radio. Breeze FM moved its broadcast from studios to outside the station building which is situated along Parirenyatwa Road. The aim of this was to give people an opportunity to see a presenter on air as they do their job.
International Childrens Day Of Broadcasting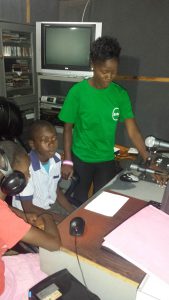 On 5th March 2017, Breeze FM joined the rest of the world in commemorating International Childrens Day Of Broadcasting (ICDB). In commemorating the event, Breeze FM opened the airwaves to children who presented various programmes like Poems, News, Drama and interviews. ICDB is commemorated to highlight issues affecting children.