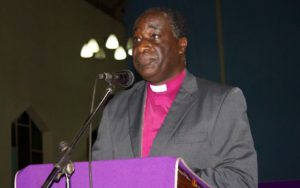 The Anglican Diocese of Eastern Zambia has observed that this year's crop marketing has posed a great challenge and disadvantaged farmers.
Bishop William Mchombo, notes that the price of 60 Kwacha per 50 kilogram bag of maize falls below the cost of production.
The Bishop says this means farmers are selling their crops at a loss and that the problem of low prices is also affecting soya beans and groundnuts.
Bishop Mchombo observes that if the distribution of inputs and the marketing continue posing serious challenges to farmers, it may affect the good plan by government to diversify the economy.
He says government must come up with a deliberate policy of protecting small scale farmers, who are at the mercy of exploitative dealers.
Bishop Mchombo made the observation in Katete at the Eleventh Synod of the Anglican Diocese of Eastern Zambia.
On Gender Based Violence, GBV cases, Bishop Mchombo observed that the challenge has become an economic and social problem for communities, as it cuts across religion, race and tribe.
He attributed the problem to gender inequalities and power imbalances, emphasizing that GBV infringes on human rights and impacts negatively on development.
He said while there are many organizations working hard to end GBV cases, the church cannot afford to lag behind and encouraged church groups to come up with committees to deal with gender abuse.
He also added that the church appreciates government's political will to deal with GBV cases at various levels through a number of policy, legislative and administrative measures.
Meanwhile, Bishop Mchombo has called on the country to address omissions in the constitution.
He says the political tension that the country experienced after the last general elections could be attributed to contentious issues in the constitution.
Bishop Mchombo also notes that the Public Order Act can be reformed and exercised in a just and fair way, regardless of political party or organization.
He says while politics will remain the way to elect leaders, they should not be a tool for dividing the people in the country.
Bishop Mchombo says the Anglican Church in the Eastern Diocese of Zambia, therefore joins other people in calling for dialogue and reconciliation of all political players and their parties.
He says Zambia is a unitary state, in which its citizens and residents should participate fully in various issues regardless of tribe, religion or region, as long as they are within the law.
On environmental issues, Bishop Mchombo urged planning departments in District Councils to be more proactive and choose right places where people can build.
He said the current situation where people build on top of hills and sometimes on river sources, should be discouraged, to prevent disasters like those happening in other countries.