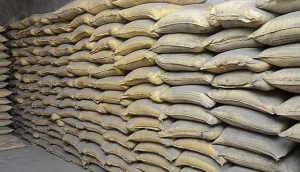 Prices for cement have continued to reduce in Chipata district.
A check by Breeze News in some shops revealed that the price of the commodity, which had gone up to 95 Kwacha per 50 kilogramme bag is now at 75 Kwacha.
Dealers spoken to attributed the price reduction to a downward price adjustment by wholesalers.
And some of the residents found buying the commodity expressed happiness that different brands of cement were now selling at the same price.
John Mwanza explained that he had to suspend his construction works when the price of cement had hit 95 Kwacha because he could not afford.
Meanwhile a check on the exchange rate found that the United States dollar is now buying at 9 Kwacha 60 Ngwee and selling at 9 Kwacha 87 Ngwee while the Pound is buying at 13 Kwacha 51 Ngwee and selling at 13 Kwacha 78 Ngwee.
The Euro is buying at 11 Kwacha 98 Ngwee and selling at 12 Kwacha 22 Ngwee while the South Africa Rand is buying at 80 Ngwee and selling at 82 Ngwee.