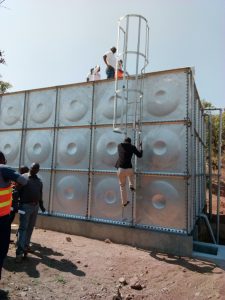 About 200 people in Chanida border in Chadiza District will soon be connected to water supply from EWSC, Eastern Water and Sewerage Company.
EWSC Managing Director Layton Kanowa, says the installation of water pumps and construction of kiosks and ablution blocks at a total cost of 15.7 million Kwacha, is expected to be completed in the next three weeks.
Mr. Kanowa says the project which is at 90 percent is aimed at providing more people with safe drinking water in the province.
Speaking when Chadiza Member of Parliament Salatiel Tembo toured the project yesterday, Mr. Kanowa says the company still needs support from government to connect more people, because the supply of the water in the area will attract more developers.
Mr. Kanowa says the company needs about 3 million kwacha to cover more than 450 people in Chanida area.
Mr. Kanowa further indicated that the company has a deficit of about 40 percent of potential customers in Eastern Province, who not connected to the utility company's water supply system.
And Chadiza Member of Parliament Salatiel Tembo says he will engage relevant authorities to lobby for resources for the completion of the project.
Mr. Tembo says the works done by the company will greatly help people in Chanida border area, who are having challenges in accessing safe drinking water.
He says more developmental projects are expected to be implemented due to the reliable supply of water by the utility company in the area.