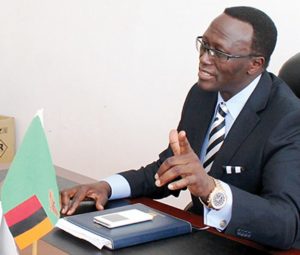 Government says it has received a notice from Paramount Chief Kalonga Gawa Undi of the Chewa people that Chief Mafuta has been dethroned.
Eastern Province Permanent Secretary Chanda Kasolo says Chief Mafuta has been dethroned on Kalonga Gawa Undi's decision.
Speaking during a press briefing at his office yesterday, Mr. Kasolo says that an appropriate action against the dethroned chief will follow once the whole procedure is concluded.
He says government will wait for the appointing authority of Kalonga Gawa Undi, to install a new chief.
The Permanent Secretary says according to the Zambian constitution, government will not interfere in the degazzeting and installation of traditional leaders.
Mr. Kasolo says any dispute of land between Chief Chinunda and Chief Mafuta should be suspended, because a new chief is yet to be installed.
Meanwhile, Mr. Kasolo says the death of the suspected poacher who died in detention cells in Mambwe district is regrettable.
He says government is saddened over the incident, adding that law enforcement officers in uniform are in communities to prevent crime and not to kill people.
Mr. Kasolo says suspected officers in the matter will be investigated and taken to court if there is evidence against them.
He says he will meet the police commissioner today to find out how far the police have gone with the investigations.