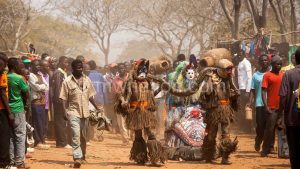 Chewa Chiefs from Malawi, Mozambique and Zambia, have started arriving at Mkaika Chewa Headquarters in Katete district, for the 2017 Kulamba Traditional Ceremony.
Kulamba Ceremony Organizing Committee treasurer, Chief Chanje, confirmed this to Breeze News.
Chief Chanje says senior Chief Lukwa and others from Malawi arrived yesterday, while from Mozambique, Chiefs Chimwala, Kaduku and others are also already at Mkaika.
He says the rest of the Chewa Chiefs from the three countries are expected to arrive today, in readiness for rehearsals and selection of dances to perform on Saturday.
Chief Chanje says preparations have reached advanced stage, with only last touches remaining.
Meanwhile, Chief Chanje has urged motorists ferrying people to Mkaika, to follow traffic rules such as avoiding over speeding and driving while drunk.
He says this will help prevent accidents.