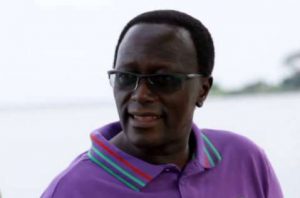 The Chinese mining firm that has been granted exploration rights for mining of gold in Chief Mwanya's area in Lundazi district has started reconstructing the 92 kilometre Chikomeni-Chitungulu road.
The works will be carried out at a cost of one million United States dollars.
Eastern Province Permanent Secretary, Chanda Kasolo, who commissioned the road works on Friday, is delighted with the commitment by Yongfeng Mining Investments to construct the road, even before the company starts reaping from the mining activities.
The Chikomeni-Chitungulu road becomes inaccessible in the rainy season.
Mr. Kasolo observes that the company has also pledged to construct a clinic, which will be manned by a Chinese doctor and that the company will upgrade Mwanya Primary school into a secondary school.
He notes that Yongfeng will also offer scholarships to school leavers to study in China and give five per cent of its profits to the local chieftaincy as royalty grants in order to benefit the local people.
Mr. Kasolo also states that a police post will be constructed by the mining firm in order to curb crime cases in the area.
He says Yongfeng has also offered to help provide safe drinking water to the local people by drilling boreholes.
The permanent secretary noted that once fully operational, Yongfeng Mining Investments will employ 1,000 people out of which the majority will be the locals.
Mr. Kasolo says the government alone cannot meet all the needs of the people and stressed the need for private sector participation through corporate social responsibility.
Meanwhile, Director of Mines and Mineral Development, Mooya Lumamba, has called on local miners in the country to partner with foreign investors and get into large scale mining.
He says this would contribute greatly to the development of the country.
Mr. Lumamba says there are a number of people that have mining licenses, but are not able to carry out sustainable mining activities.
He observed that Zambia has vast mineral deposits that have not yet been fully exploited.
And the RDA, Road Development Agency director of road maintenance, William Mulusa, said the construction of the road fits into government's link Zambia project.
Mr. Mulusa commended the investor to continue supplementing government's effort, stating that RDA will offer technical support to ensure that the road works are in line with the required standards.
And Yongfeng Mining Investments Zambia Limited country director Thomas Mushiwe said that the company will ensure that quality works are done and that his company will employ the local people.