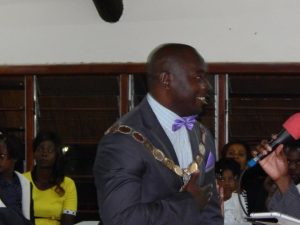 A misunderstanding has arisen over the operations of Lukwakwa Resource Centre in Chipata district.
Chipata Mayor Sinoya Mwale has been accused of interfering in the operations of the resource centre by hand picking an interim committee to run the operations.
Eastern Centre Coordinator, David Lungu alleged that Mr. Mwale has excluded youths with disabilities from participating in the activities of the resource centre.
Mr. Lungu charged that Mr. Mwale blocked an election which was supposed to be held to choose a committee and opted to pick an interim committee of relatives.
And YMCA Coordinator Sam Mbewe says that Mr. Mwale should take an advisory role instead of actively participating in a project for young people.
But when contacted Chipata Mayor, Sinoya Mwale denied any wrongdoing, stating that he is not aware of the interim committee.
Mr. Mwale stated that the Lukwakwa Resource Centre is under the supervision of the Department of Housing at Chipata City Council.
He however, stated that the council will not allow the resource centre to be politicised or used to cause confusion because it is meant for progressive ideas and activities