The City Market in Lusaka has been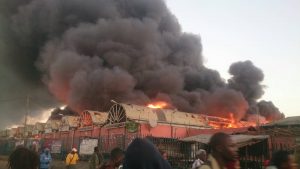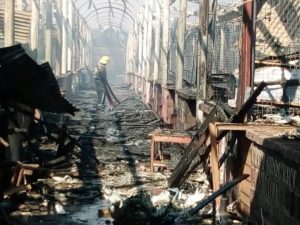 burnt down.
The market also happens to be Zambia's biggest and its burning means livelihoods of its many traders have been destroyed.
The fire has left some traders tearful as they have lost most of their goods.
President Edgar Lungu says the law will catch up with lawbreakers and those engaging in acts bordering on economic sabotage.
The President has called on Zambians to remain patient as they await a full report by security services on the fire that has gutted city market.
President Lungu says if the fire is an act of arson, then those destroying public property are enemies of the people.
This is according to a statement availed to the media by his special assistant for press and public relations, Amos Chanda.
Speaking in Addis Ababa, Ethiopia before departure for Lusaka, the Head of State said for now security services have told him that it is too early to reach any conclusions.
President Lungu said he will wait to hear from security wings on arrival back home.
He said the Nation must remain calm and ensure no retaliatory action is taken to worsen the situation.