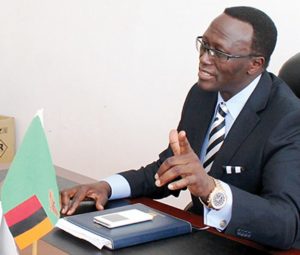 Government has maintained that it will continue demolishing illegal structures built on top of underground installed water pipe lines, in order to protect people's lives.
Provincial Permanent Secretary Chanda Kasolo says government will not entertain any illegality.
He says that what Chipata City Mayor Sinoya Mwale and some of his councilors are doing is uncalled for, as they are against the directive by the head of state.
On Monday, Chipata City Mayor Sinoya Mwale said he is against the decision by the Provincial Administration to demolish buildings allegedly built on top of the underground water utility pipe lines.
Mr. Kasolo says the council is responsible for administering land to developers, stating that this means that the council allowed illegal structures to be built.
The Permanent Secretary says that it is surprising to note that Mr. Mwale who was the mayor before, from 2008 to 2010 has turned around and started condemning things that are being done properly.
Mr. Kasolo said this during a press briefing yesterday.
He says the provincial administration has been working well with technocrats from the council, who have been directing officials in the demolition exercise.
Mr. Kasolo added that individuals whose illegal structures were demolished are unhappy over the exercise and are now telling lies to the general public.
He says the council has failed in their duties, stating that the provincial administration is trying to put things in order.