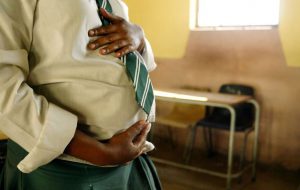 Eighteen pupils have fallen pregnant and dropped out of school between January and March this year in Chadiza district.
Chadiza District Education Board Secretary Misozi Mwenya has described the development as worrying because the number of female pupils dropping out of school due to pregnancies is on the increase.
Mrs. Mwenya says that government is putting so much emphasis on educating the girl child as evidenced by the implementation of the re-entry policy where a girl child goes back to school after delivery.
She also expressed disappointment over some parents who marry off their children at a tender age instead of taking them to school.
Mrs. Mwenya appealed to the parents to encourage their children to concentrate on education in order to be responsible citizens in future.
She was speaking during the Women Farmers Forum organised by Chadiza District Farmers Association.
Meanwhile Chadiza Women Farmers Forum Chairperson Ruth Banda has called on government to consider constructing a girl's boarding Secondary School in the district.
Mrs Banda says that a girl's boarding school will help to prevent child marriages and teenage pregnancies.
She also stated that issues of GBV and early marriages remain a major challenge in the district adding that government should not stop applying strong measures against culprits.