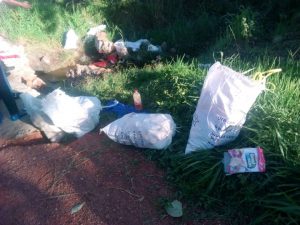 The provincial health officers in Chipata yesterday found different expired and damaged food stuffs being washed and repacked by unknown men.
Afrah Sakala who is Shoprite Chipata branch manager told Breeze News that the men ran away before they could be questioned.
Mr. Sakala says the contractor, who collects garbage at the chain store, has been complaining that some people repack damaged and expired food stuffs
He says the matter was reported to Chipata City Council because the repacked items are later sold to unsuspecting people in the district.
And Chipata City Council Director for Public Health, Constance Mulenga Chirwa, says the trend is bad and must be stopped, because the food is not fit for human consumption.
She also noted that the water being used to wash the fruits and vegetables is dirty and contaminated.
Mrs. Chirwa says that her office will discuss with management of the chain store and the company that collects the garbage to find a way of preventing food scavengers from accessing the damaged and expired items.