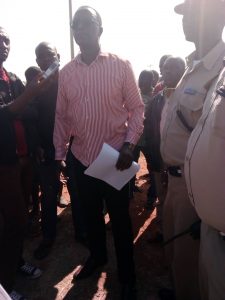 Forty-five foreigners have been arrested in Chief Sandwe's area of Petauke district on suspicion of engaging in illegal gold mining.
Eastern Province Permanent Secretary, Chanda Kasolo, told journalists at a media briefing in Chipata, that 16 of those arrested have been deported, while 29 are detained in Chipata district.
He says the foreigners were working with local people in mining and buying of gold in a Game Management Area, GMA.
Mr. Kasolo also said a number of Zambians are appearing in court over illegal mining in the area.
He said government will continue monitoring illegal mine activities in all places where it is happening until it comes to an end.
Mr. Kasolo, however, noted that illegal mining activities have reduced in Chief Mwanya's area in Lundazi district, following the reduction of water levels in streams used to clean the gold.
Meanwhile, Mr. Kasolo has announced that a local company has been granted a prospecting license in gold mining in Chief Mwanya's area in Lundazi district.
He said the company has partnered with a Chinese investor and will soon start exploration of gold.
Mr. Kasolo says that the investor has pledged to support the local community in various ways.
He says next week, the investor will start constructing a 92 kilometer road from Mwanya to Chitungulu area at cost of 14 million Kwacha.
Mr. Kasolo said this is good for the people of Mwanya, as the road is in a deplorable state and the area is often cut off during the rainy season.
Meanwhile, Eastern Province Permanent Secretary, Chanda Kasolo, has warned people building on land belonging to retired Contract Haulage, CH employees that they risk losing their investments.
He said that a legal process has commenced and very soon, the illegal structures will be brought down.
Mr. Kasolo advised the developers against building on the land, which he said was acquired illegally and warned all those involved in the illegal allocation of land that they will face the wrath of the law.
And Mr. Kasolo said he has started legal proceedings against people that have accused him of pocketing monies from the land.
He says the people have to provide proof on their allegations.
The permanent secretary said during a press briefing in Chipata that those engaged in the illegal allocation of the private land, have been accusing him of pocketing monies realized from the sale of the property, belonging to the defunct Contract Haulage retirees.