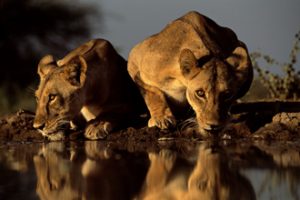 Four stray lions have killed six head of cattle within two days in Chief Chinunda's area in Chipata district.
The development has instilled fear in villagers, whose movements have now been restricted to within their homes.
Speaking to Breeze News, Headman Mphasala, Elijah Nkhoma says that the lions killed two animals on Wednesday and four animals yesterday.
The headman made a desperate appeal to the Department of National Parks and Wildlife, to send officers to put down the vicious wild animals.
And a resident of the area, Kumandakuitana Tonga says that the villagers have the capacity to kill the animals if help delays.
Mr. Tonga stated that the villagers do not want to take action, because they respect laws that deal with killing of wild animals especially those in national parks.
And efforts to get a comment from Department of National Parks and Wildlife Acting Area Warden, Webster Katele, failed by news time.