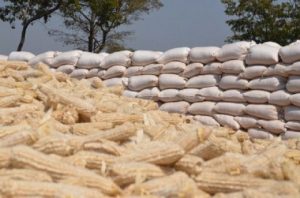 The Food Reserve Agency FRA has so far purchased 396,000 by 50 kilogrammes bags of maize in Eastern Province.
FRA Provincial Marketing Officer, Felix Moyo has told Breeze News that this is from a target of 720,000 bags, which are supposed to be bought from the region.
Mr. Moyo says that so far, the agency has recorded an overwhelming response from farmers, which has seen FRA increasing the number of satellite depots in four districts.
These are Chipata where depots have been increased by two and Chadiza, Lundazi and Chama where depots have been increased by one.
Meanwhile Mr. Moyo says that no satellite depot in Eastern Province including Chadiza district has run out of empty grain bags.
He says that each of the depots was given 8,000 empty grain bags and that none of the depots has bought more than 8,000 bags of maize from farmers.
And FRA Quality Controller, Clyde Muuza has advised farmers to ensure that they properly clean their maize before taking it to the depots.
Mr. Muuza says that the agency is emphasising on cleaned maize to ensure that the process of buying the produce is smooth.
He further stated that FRA is only buying maize produced in the 2016-2017 farming season.