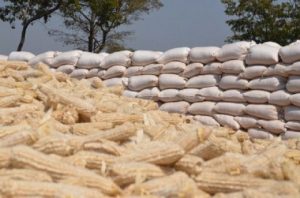 The Food Reserve Agency, FRA in Chadiza district has so far purchased over 47,100 by 50 kilogram bags of maize.
This is out of the district target of 96,000 bags.
Chadiza District Agricultural Coordinator, Kabange Masenga, confirmed this to Breeze News today.
Mr. Masenga said FRA has also purchased 1,090 by 50 Kilogram bags of soya beans as of August 19th 2017.
He said the response from farmers is overwhelming and farmers will be paid soon.
And Mr. Masenga refuted claims by some farmers that in some depots, farmers are being turned away because the agency has stopped buying crops after meeting the targets.
He explained that there are three depots that had run out of empty grain bags, which forced officers to stop buying, as they waited to be supplied with empty bags.
He said that the empty bags will soon be supplied to the affected depots, insisting that FRA will continue buying crops until the district target is met.