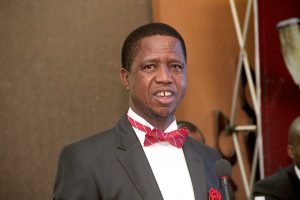 President Edgar Lungu says Zambia attaches great importance to its bilateral relations with all countries that have their mission in the country.
He says the relations with friendly countries are based on mutual respect, trust and cooperation.
President Lungu said this at State House this morning when he received letters of credence from new ambassadors and high commissioners to Zambia from various countries.
He expressed confidence that the new ambassadors and high commissioners will further enhance the existing warm relations between Zambia and their countries.
President Lungu says Zambia has a common mission with other countries of fostering economic development to improve the living standards of people.
He also says Zambia is ready to learn and share agricultural practices, while improving bilateral trade.
Among those, who presented their letters of credence are Bossom Assmoi Desire, ambassador of Ivory Coast, André Nzapayeke,  ambassador of the Central African Republic,  Jean Pierre Jmumun, high commissioner of the Mauritius and, Margaret Ekua Prah, high commissioner of Ghana.
Others are Michael Gerard Burrell, High commissioner of New Zealand, Kim Chang Ryop, ambassador of the Republic of Korea and Dr. Waleed Hasan, ambassador of Palestine.