Government says it will continue screening foreign missionaries that come into Zambia to preach the word of God.
Minister of National Guidance and Religious Affairs, Godfridah Sumaili says government has a responsibility to screen foreign missionaries that come into the country so that those that do not practice biblical teach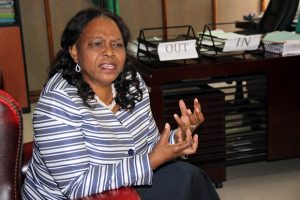 ings are not allowed to operate in the country.
Reverend Sumaili says Zambia has its own standards on how to preach the Gospel and foreign missionaries who do not follow the teachings of the Christian Nation will not be tolerated.
She urged the church to assist government in preaching messages of good morals to the people so that they uphold the morals of the nation and curb bad vices such as beer drinking, indecent dressing and prostitution.
Reverend Sumaili however, thanked the church for working with government in providing social needs to the community such as health, education, water and sanitation.
She was speaking when she paid a courtesy call on Anglican Eastern Zambia Bishop, William Muchombo and Chipata Diocese Catholic Bishop, George Lungu in Chipata this morning.
And Bishop Muchombo says the church will continue to work with any government of the day.
He urged the Minister to work with every one despite their political affiliation.
And Chipata Diocese Bishop, George Lungu thanked the government for partnering with the church to work for people in communities.
Meanwhile the Ministry of National Guidance and Religious Affairs says it will decentralize its operations to provincial headquarters across the country.
Minister of National Guidance and Religious Affairs, Reverend Godfridah Sumaili, says this will help her ministry to be represented and work with other government ministries in the provincial headquarters.
Speaking when she paid a courtesy call on Eastern Province Minister, Makebi Zulu today, Reverend Sumaili, says her ministry will focus on challenges relating to Gender Based Violence in families.
She says her ministry will work with the church, traditional leaders, school authorities and other relevant authorities to strengthen the fight against GBV in communities.
Reverend Sumaili further says it is encouraging to note that the province is boosting the Agriculture Sector.
She says small scale farmers should therefore be encouraged to adopt mechanization farming, because sustainable development comes from agriculture.
And Eastern Province Minister, Makebi Zulu, says better methods of farming will be encouraged among small scale farmers in the province.
He says the province has managed to attract investors, who have shown interest in investing in the province.