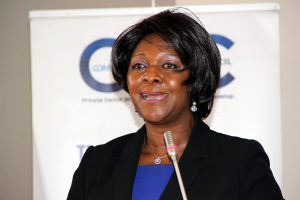 Government says it is reviewing a number of regulations which affect the business community in the country.
Minister of Commerce, Trade and Industry Margaret Mwanakatwe says the country will continue creating a conducive business regulatory environment, which support the diversification of the country's economy.
Ms. Mwanakatwe says Zambia is among the top 10 economies, globally, showing the most notable improvement in implementing business reforms and that it is ranked 85th of the World Bank ease of doing business from 2017 to 2018.
She says this means that the country has improved in the implementation of its business regulation frame work.
Ms. Mwanakatwe said this during the official launch of the Chipata Regulatory Services Centre and the signing of Memorandum of Understanding, MoU between PACRA and BRRA, Business Regulatory Review Agency this morning.
The Minister says the establishment of the Regulatory Services Center in the province will improve the business environment, as it will help reduce the procedure, it takes to complete the business registration process.
She says that government wants to ensure that Regulatory Service Centers are established in every provincial center by the end of this year.
Ms. Mwanakatwe says the Chipata RSC launched this morning will be offering services such as business main registration, consumer protection, among other services.
And Business Regulatory Review Agency Director Sharon Sichilongo says the RSC's which are currently operational in Lusaka, Livingstone and Kitwe are important as they improve service delivery to the business community.
Ms. Sichilongo has asked Chipata City Mayor Sinoya Mwale, who was present during the launch, to extend the local authority's services to the Chipata RSC.