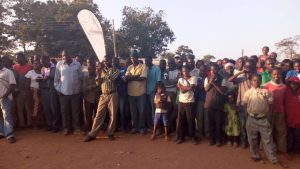 Government has been challenged to address challenges rural schools face in Chipata District.
Mchenja Primary School, Parents Teachers Association, PTA member, Mabvuto Ngwenya, says rural schools face a lot of challenges, which need urgent attention by government.
Speaking during The Voice debate program on Breeze FM, Mr. Ngwenya says lack of teacher's houses and classroom blocks are among the challenges rural schools face.
He says the community has greatly contributed towards projects in the affected schools, but that they lack resources to complete the projects.
During the debate, parents also complained that school authorities chase away pupils for non-payment of school fees.
The parents noted that the free education policy from grade one to seven is just on paper, because pupils have continued being sent away whenever, parents fail to pay.
And Provincial Senior Planning Officer, Mangongwe Tembo, maintained that government is implementing the free education policy.
Mr. Tembo says the charges that pupils pay are agreed by parents themselves during PTA meetings.
He, however, acknowledged that some schools in rural areas face challenges such as shortage of classrooms and teachers' houses.
Mr. Mangongwe encouraged parents through PTA to initiate projects adding that government through the Ministry of Education always comes on board to assist with other materials.