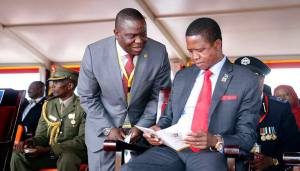 Foreign Affairs Minister Harry Kalaba has resigned from his position as minister.
This is according to a statement released by Mr. Kalaba, which is posted on his Facebook Page monitored by Breeze News.
Mr. Kalaba says that he had just dropped his resignation letter as Foreign Affairs Minister with President Edgar Lungu – a position he cherished and held for over 4 years.
He says that he had taken his decision to resign as Foreign Affairs Minister with a heavy heart but quite succinctly with a clear and resolved mind.
Mr. Kalaba states that his resignation is necessary looking at the path Zambia has taken, a path of insatiable greed and shame which is clearly unacceptable and unsuitable.
He has charged that management of national affairs cannot proceed with cold indifference when the levels of corruption are swelling and being perpetrated by those who are expected to be the solution.
The former minister says that he has decided to remain an ordinary Member of Parliament representing the gallant people of Bahati constituency.