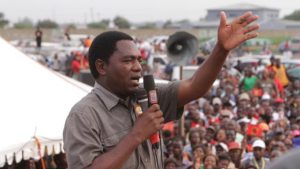 The United Party for National Development UPND says the Patriotic Front PF Party has destroyed the agriculture sector with its alleged corrupt ways of leadership.
UPND President Hakainde Hichilema says that the Patriotic Front government has completely ignored the plight of the people by destroying the agriculture sector in the country.
Mr. Hichilema says vulnerable farmers are being exploited through the introduction of systems that are not benefiting the farmers, citing the E-voucher system as a major cause of the delayed distribution of farm inputs.
He also noted that farmers are not benefiting from any of these systems, adding that the reduction in the market floor price for the 2016 -2017 farming season was a mockery to the farmers.
He says UPND has a strong policy framework and will strive hard to reinstate the Agriculture sector in the country, by replacing the E-voucher system with efficient systems that will ensure viability of farmers in the country.
Mr. Hichilema was speaking during a card renewal exercise held at Mpezeni Park Square in Chipata yesterday.