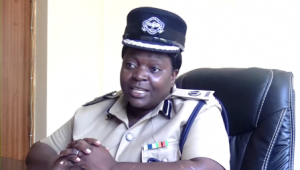 Police in Lusaka have arrested a 33 years old man for murdering his wife and her alleged boyfriend.
Police Spokesperson Esther Katongo has confirmed the incident to Breeze News.
Ms. Katongo says that Peter Siwale, a clearing agent in Nakonde of Muchinga Province also of Lusaka's Mean wood Phase 2 area, shot dead his wife, Charity Namuko aged 30 together with a man identified as Andrew Chibesa aged 27, whom he suspected to have been having an affair with his wife.
She says that the incident happened yesterday between 18 and 19 hours in Mean wood.
Ms. Katongo explains that the suspect trailed the victims, who are both teachers at a named school in Kaunda Square to some place in Mean wood using a friends' motor vehicle where he saw them in a romantic state.
She says that Siwale then picked the two and took them to his home where he is alleged to have shot both of them dead in the presence of his children.
Ms. Katongo says that Siwale's wife sustained a wound on the right shoulder and right side of the chest while the other victim sustained a wound on the left side of the chest.
The suspect later went to the neighbour's house with the children and requested that he be taken to the police.
The police spokesperson says that a pump action shotgun has been recovered from the scene, with three empty cartridges.
The suspect is detained in Police custody while the bodies of the deceased are in UTH mortuary awaiting post-mortem.