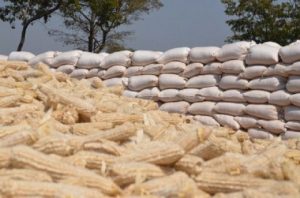 Chipata District Farmers Association CDFA has described as a mockery the 60 Kwacha maize floor price for a 50 kilogramme bag, announced by FRA, the Food Reserve Agency.
CDFA Coordinator, Virgil Malambo says that the price does not make business sense especially that last season FRA bought the maize at 85 Kwacha.
Mr. Malambo says that although there is over production of Zambia's staple food, the cost of producing the maize was high because of high prices for fertilizer.
He says that government should revisit its decision to assist farmers, who might lose out because of the high production cost.
Mr. Malambo doubted if the farmers can use the 60 Kwacha maize floor price to bargain for a better buying price, with private companies, who are buying the crop at 75 Kwacha for a 50 kilogramme bag.
And Mr. Malambo has advised farmers to start diversifying from growing maize to other crops to avoid such disappointment.
He says that the farmers should also think of adding value to their maize crop like producing mealie meal and stock feed for chickens and livestock.