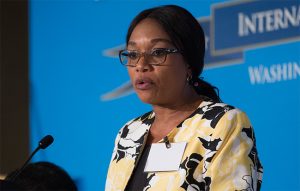 Kasenengwa Member of Parliament Victoria Kalima says the failed Chipata-Msoro road tarring project, is her greatest concern.
Ms. Kalima says it is embarrassing for her, because she has for many times, promised people in her constituency, that the road will be worked on, but that nothing positive has been done up to now.
She says the promises started in the year 2014.
She told Breeze News in an interview, after handing over 5,000 kwacha grants to over 50 cooperatives in Mboza ward in Kasenengwa constituency, that she admits the poor state of the road and hopes works will commence this year.
Ms. Kalima who is also Minister of Gender and Child Development says the road, is important because it connects three constituencies, Malambo, Chipangali and Kasenengwa.
She says there is need for the three members of parliament in these constituencies to make follow ups in order for the road to be worked on.
She was reacting to concerns from residents in the area, over the poor state of Chipata-Msoro road.