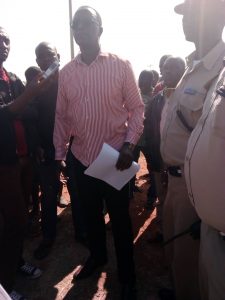 People, who are putting up structures near Referendum area, along the Great East Road in Chipata District, have been given a seven days ultimatum to demolish their buildings.
Eastern Province Permanent Secretary, Chanda Kasolo says the land in question is privately owned and the structures being built are illegal.
Speaking to journalists when he visited the area on Saturday, Mr. Kasolo says authorities will move in to demolish the structures after seven days, if the owners are not taking any action.
Mr. Kasolo has blamed Kanjala Ward Councilor, William Phiri for allocating plots on the land.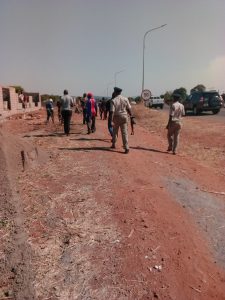 He says Mr. Phiri's actions are illegal because the land in question belongs to retirees of CH, the Contract Haulage and that he will not allow lawlessness over the matter.
Mr. Kasolo says Mr. Phiri is allegedly allocating land to the developers without consent from the Chipata City Council, but emphasized that he will not allow the structures to be formalized.
He says he has instructed Eastern Province Police Commissioner, Alex Chilufya, to arrest Mr. Phiri for his actions and that he has to explain, why he found it fit to start allocating land illegally.
Mr. Kasolo availed a court order signed by Chief Justice Irene Mambilima on June 23rd, 2015 to the affected developers, which states that the land in question belongs to Contract Haulage retirees.
He advised the affected people to avail receipts to his office, from whoever sold the plots to them, stating that he will have to refund them.
Meanwhile, some Chisitu Zone Development Committee members, who claim to own the land, have vowed to remain on the land in question, as they have stayed there for over seventeen years.
The irate members, who did not fear the presence of the police, wondered why government has been quiet on the matter for many years.
And one of the affected developers, Teleka Chirwa, who bought three plots in the area, says when he consulted, he was assured that the land belongs to Chisitu Zone Development Committee.
And when contacted, Kanjala Ward councilor, William Phiri, says he will only comment on the matter after meeting the permanent secretary on Wednesday.