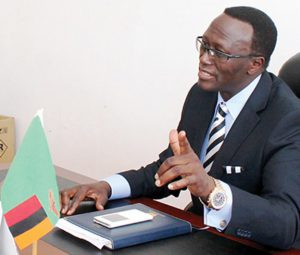 Eastern Province Permanent Secretary, Chanda Kasolo, says he will engage the provincial education office to look at the issue of schools sending away pupils, who delay to pay user fees.
Mr. Kasolo says he is expected to have an audience with provincial education officer, Dr. Allan Lingambe on Monday, to issue instructions where all government schools should stop sending away pupils due to non-payment of school fees.
He says this is because most parents are farmers, who have not yet sold their farm produce.
He said this during The Voice programme on Breeze FM on Saturday morning.
Mr Kasolo, however explained that the directive would not affect private schools.
He, however said he expects that even private schools can be reasonable in the manner they handle the issue on payment of school fees.
He said this after farmers complained that they are facing serious challenges to pay school fees for their children due to delayed opening of crop markets by government.
And Mr. Kasolo, says his office will also discuss with the Ministry of Agriculture, to find solutions on challenges farmers face and quickly come up with prices for the farm produce.
He says farmers are important and should be respected in society, as Zambians are dependent on farmers for food security.
Meanwhile, Christopher Chirwa, a farmer of Chinunda area in Chipata District, says crop diversification will be meaningless if government does not provide market for other farm produce.
Mr. Chirwa says farmers are being exploited every year, because government does not provide market for other crops such as soya beans, sunflower and cotton.
He also noted that the delay in buying of maize by government contributes to farmers being exploited by private buyers, who offer low prices.