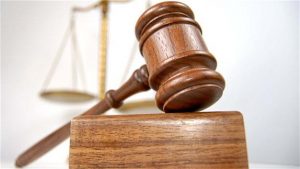 A 26 year old man of Chipata District has been sentenced to two years imprisonment with hard labour for one count of burglary and theft.
Before Chipata Resident Magistrate, Boniface Mwala, was Offman Zulu, a resident of Referendum Compound.
It is alleged that Zulu broke into a house of Victor Vumisa and stole property valued at 900 kwacha.
Zulu, who was arrested on May 26th 2017, admitted the charge, stating that he stole the bicycle and a blanket, under the influence of alcohol.
In mitigation, the convict asked the court to exercise leniency as he was a first offender.
And in his Judgment, Magistrate Mwala said the court had heard his mitigation and that he deserves leniency, because he did not waste the court's time.
The Magistrate, however said, the offence he committed was serious, adding that theft cases have become a nuisance in Chipata and that there need to protect the community by sending criminals of such crimes to prison to deter would be offenders.
He sentenced him to two years imprisonment with hard labour with effect from the day of his arrest.
Magistrate Mwala advised the convict to appeal to the high court within 14 days if he was not satisfied with the ruling.