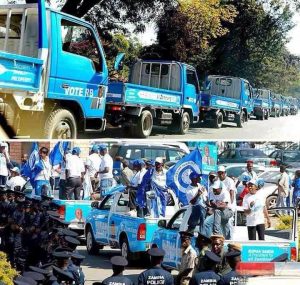 The Movement for Multi-Party Democracy MMD has revealed rampant abuse of its vehicles by its members in Eastern Province.
Provincial Spokesperson, Zephaniah Kaleya says that out of about 13 vehicles, only 6 are still running and members are treating them like personal to holder.
Mr. Kaleya further says that the party leadership has information that two of the vehicles have been sold without authority from the leadership.
He says that for those vehicles which are working, the party is not benefiting in any way as those entrusted with the vehicles are not giving the party proceeds of the businesses they are doing.
Mr. Kaleya has warned that the party will soon engage police in the matter adding that those who bought the vehicles will also be questioned.
He says that it is unfortunate that the vehicles which are supposed to benefit the whole party are benefiting a few individuals.