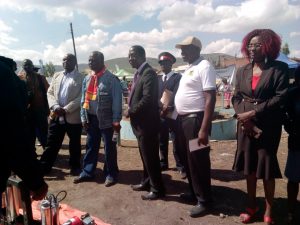 Over 187, 000 farmers will benefit from FISP, the Farmer Input Support Program in the 2017/2018 farming season under the electronic voucher system in Eastern Province.
This came to light during the 41st Eastern Province Agricultural and Commercial Show in Chipata yesterday.
Eastern Province Administrative Officer, Steven Tembo says a total of 187, 398 farmers in all the districts of the province will access their farming inputs under the e-voucher system this farming season.
Mr. Tembo says government will distribute the 2017/2018 farming inputs to farmers on time so that farmers are well prepared.
And Mr. Tembo says the province has topped the list in production of five crops which are Maize, Sunflower, Cotton, Groundnuts and Tobacco at national level.
He says government is committed to the development of the agricultural sector in the province as evidenced by the various activities such as FISP, construction of dip tanks and stocking of fish in most dams and fish ponds.
Mr. Tembo added that the province has an increased population of livestock with about 546, 300 cattle, 278,800 goats, 316,460 pigs, 47, 660 sheep and about 1.5 million chickens.
He thanked farmers for their hard work and authorities from the Ministry of Agriculture for their continued assistance to the farmers, whose efforts have yielded good results.
Meanwhile, Government has been challenged to announce the maize floor price for this year's marketing season.
Eastern Province Show Society Chairperson, Thomas Mtonga says there is need for government to guide on the floor price of maize so that farmers make decisions on where to sale their farm produce
Mr. Mtonga says private buyers are currently buying maize at as low as 40 and 50 kwacha per 50 kilogram bag, a situation he described as worrying.
Mr. Mtonga says government should also consider bringing market linkages in the value addition mix so that farmers have a variety of options as they engage in agricultural trade.
He says the program will help farmers profit from their produce once considered.
Mr. Mtonga further says it is gratifying to note that the province emerged highest in maize production, recording 881, 413 metric tons of maize, the highest production in the country.
He says this has resulted in the commercial sector performance in the province to steadily increase, thereby affecting positively to the economic development of the province.
And Mr. Mtonga says Chipata being a city, there is need to improve the infrastructure at the show grounds to attract more investors.
He says the current infrastructure is not suitable to befit a city status of Chipata.