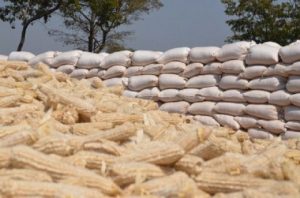 The Food Reserve Agency FRA has bought over one million bags of maize from farmers in Eastern Province.
FRA Provincial Marketing Coordinator, Felix Moyo says that by yesterday, the agency had bought one million, one hundred four thousand, five hundred and 41 bags.
Mr. Moyo says that Eastern Province is leading in the whole country with the highest number of bags bought from farmers so far.
He says that over 137,000 bags of maize have been delivered to satellite depots in Eastern A, which consists of Chama, Chadiza, Chipata, Katete, Lundazi and Vubwi districts but not yet received by FRA.
Mr. Moyo says that this is an indication that there is still a lot of maize on the market in Eastern Province.
And Mr. Moyo says that the agency has so far bought slightly over 22,000 by 50 kilogramme bags of soya beans from farmers in the region.
He has encouraged farmers to take their maize to FRA depots as the marketing exercise is expected to close at the end of October.