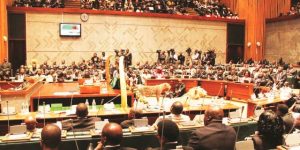 Parliament has approved President Edgar Lungu's declaration of Article 31, to curb the recent fires that have rocked the country.
Last week, President Edgar Lungu sought parliamentary approval to the Preservation of the Public Security Act, by invoking Article 31 of the Zambian Constitution.
Parliament adopted a motion tabled by Vice President Inonge Wina to confirm and extend the declaration of a state of threatened public emergency by President Lungu.
Out of 118 Members of Parliament eligible to vote, 85 voted in favor of the motion, while non of them voted against the motion, non of them voted in abstentia, and 34 did not take part.
All PF MPs supported the motion.
47 UPND MPs are serving a one month suspension for boycotting President Lungu's address to the house.
Deputy Speaker Catherine Namugala said the question was resolved in the affirmative.