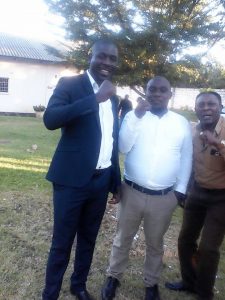 The Patriotic Front PF Party in Eastern Province has welcomed the expulsion of Roan Member of Parliament Chishimba Kambwili from the ruling party.
Provincial Chairperson, Andrew Lubusha has further welcomed the expulsion of former Copperbelt Minister, Mwenya Musenge.
Mr. Lubusha told Breeze News that the duo was over ambitious, causing confusion and wanting to take over the leadership of the party.
He says that PF members in Eastern Province should avoid having any close relationship with Mr. Kambwili and Mr. Musenge.
Mr. Lubusha charged that the duo are not welcome to Eastern Province, stating that the region is a no go area for the former senior officials.
Yesterday PF Secretary General Davies Mwila announced the expulsion of the former minister of information and broadcasting and his Copperbelt counterpart after a National Central Committee NCC meeting held on Saturday.
Mr. Mwila said the party will write to the speaker of the National Assembly tomorrow to declare the Roan Constituency seat vacant.