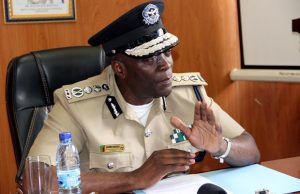 Police Inspector General Kakoma Kanganja says that the invocation of article 31 of the constitution does not mean that Zambia is in a state of emergency.
Mr. Kanganja has clarified that police have just been given extra powers to ensure that peace, public safety and order prevails in the country.
Speaking during a Press Briefing in Lusaka, Mr. Kanganja explained that during this period, Police will regulate and prohibit publication and dissemination of matters pre-judicial to public safety.
Police will also restrict and control assemblies, control movement more especially during hours of darkness, apprehension and detention of suspected criminals beyond 48 hours and search of places without a warrant.
Mr. Kanganja says that with these powers, Police have no reason to fail but instead, ensure that sanity, peace and order prevails in the country.
He however, noted that he will not allow any abuse of these powers entrusted in the police.
Mr. Kanganja warned that any officer, who abuses this act, will be disciplined accordingly.
He implored members of the public to take keen interest by reading the Preservation of the Public Security Act Chapter 112 of the Laws of Zambia to avoid speculation as well as being misinformed.