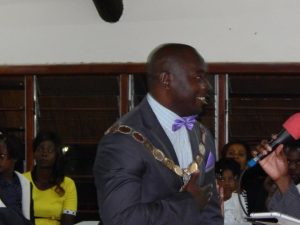 Police Officers from Chipata Central Police this morning visited the office of Chipata Mayor Sinoya Mwale to investigate illegal land allocation.
Mr. Mwale, who confirmed this, told Journalists that police officers were questioning him, if the local authority is involved in the allocation of illegal plots at CH, the Contract Haulage in Referendum area.
He explained that, the council has nothing to do with the land in question because it is a private property.
Mr. Mwale says police officers should target individuals who are alleged to be allocating plots at the private land and not the council.
He says that he is disappointed with the issue surrounding the illegal allocation of plots on land belonging to retirees for the defunct CH, because the named accused person has brought the name of the council into disrepute.