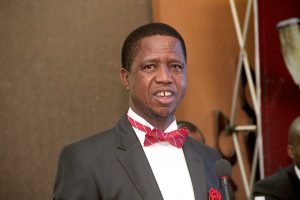 President Edgar Lungu says government is determined to actualize decent work for all Zambians in the country.
President Lungu says this will be done through implementation of policies, strategies and programmes that will foster sustainable socio-economic development.
He said this during this year's world Labour Day in Lusaka under the theme "securing descent work for sustainable social-economic development".
President Lungu said in this regard, special attention has been placed on increased investment in infrastructure development such as roads, schools and health facilities across the country to lay a firm foundation for increased investment in other areas of the economy and henceforth, create the much needed jobs for citizens.
He said in addition, government continues to invest in the agriculture and tourism sectors that have the highest potential to create wealth and employment for the majority of the people.
The president said government intends to create, at the minimum, 200,000 decent jobs on an annual basis.
And responding to concerns over the political situation in the country, President Lungu said people calling for tolerance and dialogue, should also ask those, who have failed to accept defeat to do so.
He explained that he is ready to dialogue, but can only do so if other political players are also ready.
And speaking earlier, Zambia Congress of Trade Unions, ZCTU president, Chishimba Nkole, said there is need for employers to pay their workers descent salaries.
He said that this will encourage the employees to be fully committed and more productive.
Mr. Nkole also expressed concern with the delays by government to follow agreements with Labour unions, following discussions over conditions of service, which is now being viewed as an indirect wage freeze by government.
Mr. Nkole also said his union does not support the proposed ideas of raising the mandatory retirement age to 65, as such a move will deny young people a chance to enter the Labour market.
He also advised government not to allow ZESCO to effect the proposed electricity tariffs, to which President Edgar Lungu said the move should be supported regardless of the hardships it may bring in order to promote investment in the energy sector.