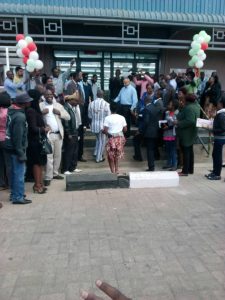 The second Shopping Mall has officially opened in Chipata City.
And Chipata City Council Mayor, Sinoya Mwale, says government will continue partnering with business entities to invest in the district.
Speaking during the official opening of the second shopping mall this morning, Mr. Mwale says the presence of foreign companies, has greatly contributed to reduction of unemployment levels across the district.
He says government is committed to ensuring that employment and wealth creation are part of the developmental process for the people of Zambia.
Mr. Mwale says the coming of new business players in the district will also empower local producers, manufacturers and small scale farmers.
The event, which attracted a number of people, was characterized by local dances.