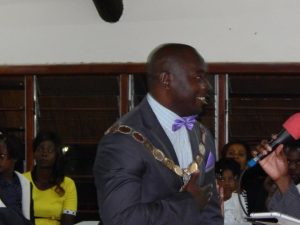 A statutory instrument that qualifies street vending as illegal in Zambia has been enacted.
Chipata Mayor, Sinoya Mwale, says the Street Vending and Nuisance amendment regulation act was signed on February 9th and the Chipata City Council received a copy today.
He says the new law that allows local authorities to prosecute and charge anyone found trading on the streets has been signed.
Mr. Mwale says this will help maintain cleanliness and good sanitation in the streets of Chipata.
He says that the act was previously in existence to guide the local authority on how to handle street vendors.
And Mr. Mwale says authorized trading areas in Chipata still have enough space to accommodate every street vendor in the district.
He has urged all people, who are still selling their merchandise in the streets to go back to designated trading places as the council will not hesitate to prosecute anyone found vending.