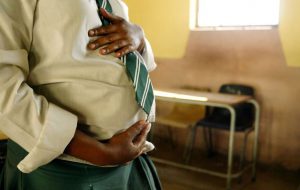 A traditional leader in Petauke District has condemned the conduct of some teachers, who are fond of having sexual relationships with pupils.
Chieftainess Mwanjawanthu of the Nsenga people says the challenge, which many girl children face in schools is their safety, because some teachers are fond of having sexual relationships with their learners.
She told Breeze News that the conduct has destroyed the lives of girl children, who end up having premature pregnancies.
The traditional leader, who was reacting to a report of a teacher at St. Therese Girls Secondary School in Kasama, who was caught having carnal knowledge of a grade 11 pupil, says the trend is also common in her chiefdom.
She claims that some teachers, who commit such offences, corrupt head teachers, adding that cases are resolved internally without being reported to authorities.
Chieftainess Mwanjawanthu emphasized the need for the Ministry of Education to put up measures that will help safeguard the girl child in schools.