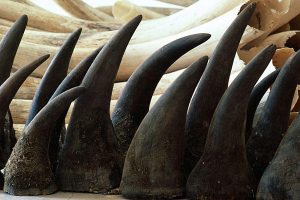 Three Chinese Nationals and two Zambians have been arrested for illegal possession of 25 rhino horn pieces weighing 32.2 Kilograms at the Chanida Border Post.
The five were arrested in a joint operation conducted by the Department of National Parks and Wildlife DNPW and ZRA, the Zambia Revenue Authority.
Ministry of Tourism and Arts Public Relations Officer Sakabilo Kalembwe says the suspects, who were nabbed at the Border Post that links Zambia to Mozambique are expected to appear in court soon.
And Mr. Kalembwe has assured the public that no rhinos have been poached in Zambia's National Parks nor stolen from Government stockpiles as reported in some sections of the media.
This follows the arrest of a Chinese woman at Oliver Tambo International Airport in South Africa for being in possession of 11 rhino Horns which were found in her luggage.
The Chines woman is said to have travelled from Lusaka to Hong Kong via Johannesburg where she was arrested and has since appeared in Court.
Mr. Kalembwe however said joint investigations with the South African Authorities have been instituted to establish how the luggage containing the rhino horns eluded security checks at the Kenneth Kaunda international airport and to establish the source of the rhino horns.