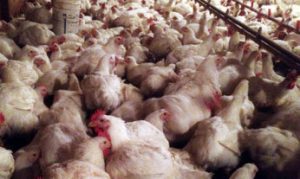 Two men of Chipata, who stole 51 chickens and two bags of chicken feed, have been sentenced to one year imprisonment each by the Chipata Magistrate Court.
Facts before the court are that Moses Wynter Njobvu, aged 20 and Edward Lungu aged 22, on September 12th 2017, jointly and while acting together with a juvenile, broke and entered into a poultry house, at Kamoto Farms and stole 51 chickens and two bags of feed valued at 2,232 Kwacha.
The three stood charged with one count of breaking into a building and committing a felony, contrary to the laws of Zambia.
They both admitted the charge, while the juvenile denied.
After the judgment, the state made an application that the juvenile be discharged in accordance under section 88A.
In mitigation, Moses asked the court to exercise leniency as he is in school and that he takes care of his grandmother.
And Edward asked the court to exercise leniency as he is taking care of an orphan, whom he gives financial support at school.
Resident Magistrate Mwala said the court had heard their mitigation and that the two are youths, who can easily reform if given another chance.
Magistrate Mwala, however, said the offence that the two committed has become a nuisance in Chipata.
He said giving custodial sentences to offenders will help reduce theft cases.
He then sentenced them to one year each with effect from the day of their arrest and discharged the juvenile.
The Magistrate warned the juvenile not to repeat the mistake.
Earlier, the juvenile told the court that he was picked by his friends and that he did not know that they had an intention of stealing.